---
When it comes to pocket knives you have lots of choices from traditional to quick deploying auto-openers.  
---
Whether you're an old traditionalist or a high tech outdoorsman, there's literally one piece of equipment that none of us are caught without on a daily basis…..it's a good old pocket knife!  Just like everything else in life these days, they come in a lot of flavors and sizes!  So what kind of knife guy are you?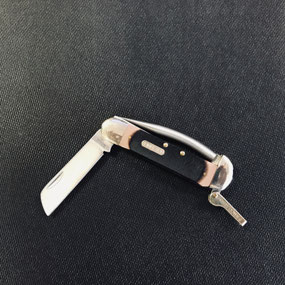 Traditional Folders:  When it comes to knives, many like to keep it simple!  A good traditional folder like your grandfather always had does the trick.  They're easy to carry and does any of the 100's of things we use them for on a daily basis. 
From Buck to Schrade, KABAR to Smith & Wesson, there's tons of choices in traditional styles to modern sleek versions.  Pick a size, type of blade (serrated/non-serrated), style of blade, locking or non-locking, and you're all set.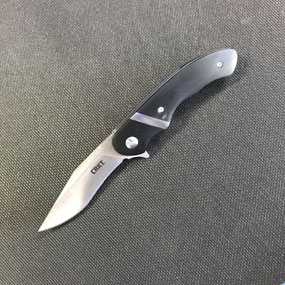 Assisted Opening:   For those looking for something a little more flashy let's take a look at assisted opening knives.  Unlike traditional folders where you manually open the knife by hand, Assisted openers are great for those wanting fast deployment and one handed operation.
Assisted opening knives, also referred to as spring-assisted knives, have a spring assist which opens only after the blade is slightly pushed open with force.
Unlike an auto-opener (which we'll get to next) the user of an assisted opener begins opening up the blade with a thumb stud or lever, which usually has some resistance, the spring or torsion bar catches the knife and propels it open from the side where it locks into place.
These knives have gained a lot of popularity in recent years.  Brands like Kershaw, Schrade, Smith & Wesson, CRKT, and Kabar offer different styles, sizes, and blade styles to suit your needs.  They are easy to deploy, very dependable, and let's face it…they're just a boost of testosterone in a knife!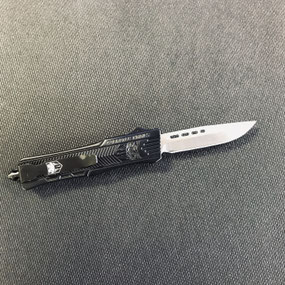 Auto-openers:  Here's where we get to the fun stuff!  Auto-openers are the top fuel dragsters of the knife world!  Auto-openers, for the most part, come in two styles…side opening and the attention getting out the front (OTF) versions.  We have become a society where we like easy and it doesn't get much easier than this.
Auto-openers, like the name implies, are totally auto.  In the most basic terms, an auto-openers feature a blade that springs out of the handle when a button is pressed.  The typical auto opener looks like any regular folding knife, but with the simple press of a button the blade flicks out into a locking position.
Side auto-openers are similar to a regular folder in one respect, the blade rotates around a hinge.  The difference comes when an auto-opener is being closed, tension from an inner spring is placed on the blade.  When fully closed, the tension is separated from the knife by a button. When the button is pressed, the tension of the spring is released back onto the blade and it flicks open from the side without any effort.
The second type of auto-opener is called the OTF (out the front) style. As the blade comes out at the top of the handle. The opening mechanism functions the same way; the knife engages when a button releases the tension of the spring onto the blade. We currently carry several models made by CobraTec.
These knives are attention getters but I urge anyone using them to use extra caution.  These blades snap out and lock with gusto as long as there's nothing hindering it's deployment.  Keep in mind, we're talking pocket knives and you don't want  one accidentally deploying in the confines of your pocket. 
On a brighter note, many of these style knives have safety switches in the handle to prevent unwanted deployment and OTF knives that are legal in the state of Missouri have features which disengage the spring from the blade when they come into contact with any resistance.  
---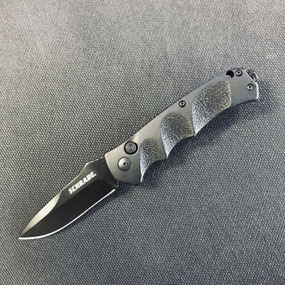 Schrade Side/Auto Opening Knife with Safety Switch
---
---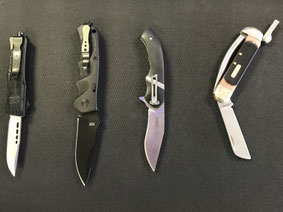 We use our pocket knives each and everyday – occasionally for an emergency but more often for just routine daily activities.  Will you be carrying a tried and true traditional folder or opt for the modern side or out the front deploying auto-opener.  Stop out to the shop and we'll be happy to demonstrate the different types and styles and help you answer the question of "What kind of knife guy are you".  
---